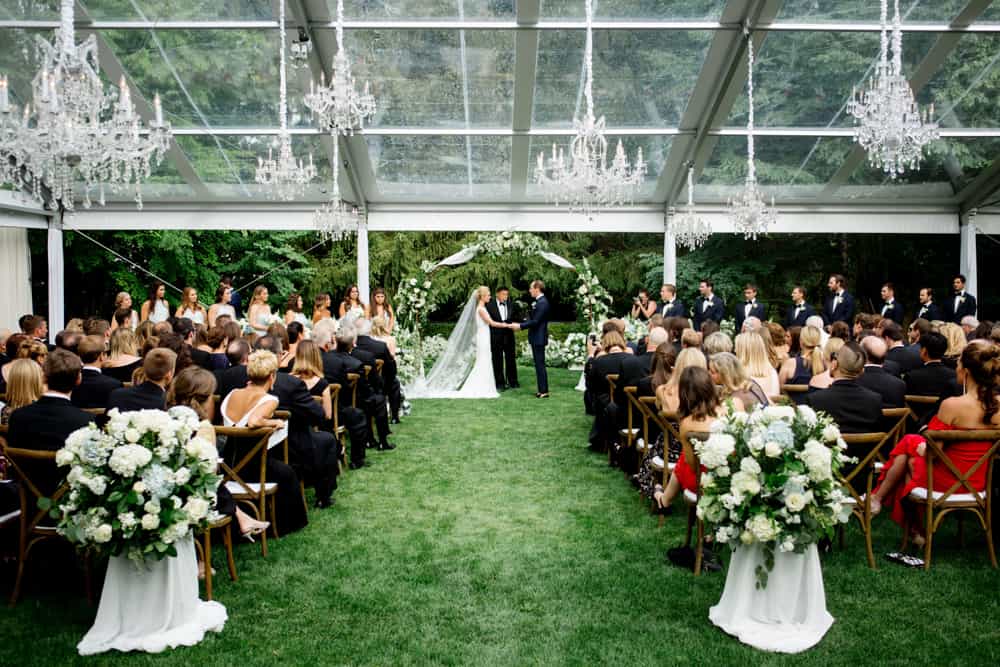 Progressive Tent Wedding on a Private Estate in Chicago's North Shore
In the spirit of a progressive dinner, this fabulously original wedding was hosted in three different tents dispersed throughout a private family estate in the North Shore—one at the front of the property for cocktails, one for the ceremony (flipped to the reception during cocktail hour), and one for dancing. While each tent had a unique vision, they shared the overarching theme of an elegant garden affair that enhanced the beauty of the family home.
Every environment offered guests new moments to enjoy. In the main tent, attendees were wowed by a sophisticated design scheme comprised of 18 chandeliers, stunning florals, and intricate tablescapes. In the dancing tent, white paper lanterns of various sizes created a playful and fun vibe. We also hired a custom painter to capture special moments throughout the day, which were incorporated into a painting that now serves as a cherished memento for the couple's home. No detail was overlooked in the planning process, making this wedding a joy to orchestrate and a day that was unforgettable for all who attended!