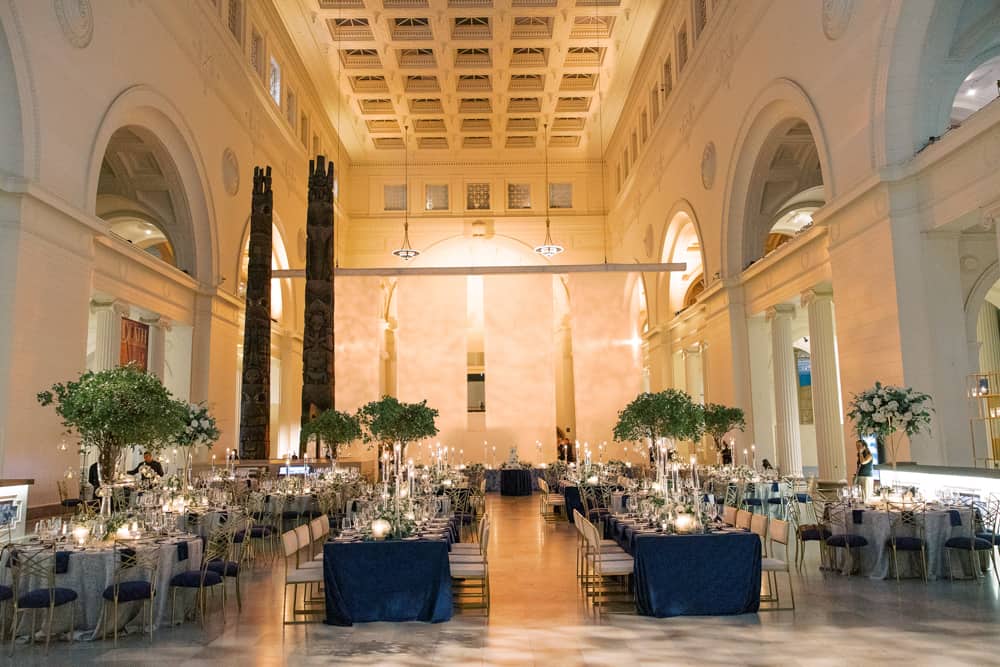 A Wedding of Titanosaur Proportions at the Field Museum in Chicago
While Kendra is from St. Louis and Chuey hails from Los Angeles, after beginning their new life together in Chicago, they decided they wanted to showcase their wedding in the Windy City. They only had one main requirement: it had to take place on a Saturday night in 2022, the busiest year on record for weddings! We scoured the city looking for the perfect venue that still had availability before winter blew in. Although Kendra initially envisioned a romantic tent wedding, she and Chuey ended up embracing a completely unexpected venue: Stanley Field Hall at the Field Museum, where they dined and danced under the giant titanosaur, Maximo.
Kendra's vision for a wintery blue palette was incorporated into the wedding decor, and warmed up by gorgeous linens and soft velvet napkins that added a personal touch of luxury to each place setting. To further personalize the evening, guests were greeted with a "Palaciosaurus" cocktail, a playful nod to the couple's last name. Rather than competing with the centerpiece of the room, we ultimately decided to embrace Maximo and switched up the venue's typical layout to utilize him as our stage backdrop. After a delicious dinner by Blue Plate Catering and a beautiful wedding cake from Vanille, the crowd joined the couple and their family on the dance floor, rocking out to Entourage.
To top off the evening, toasted ravioli was flown in from Kendra's beloved St. Louis and served on the dance floor. Maximo, our new friend, beamed from above as Kendra, Chuey, and their guests danced and made unforgettable memories. We only wish he could have tasted that Palaciosaurus!